This is the 500th post. My first blog post was written on June 1, 2011. Eight complete years of writing. I began writing the blog after reading Hugh Nibley's book: Approaching Zion. It was during that same time the Church was building their multibillion dollar City Creek Mall in downtown Salt Lake City. This blog has been a source of therapy for me to be able to write about things I was witnessing here in my hometown which is also the headquarters for the Church of Jesus Christ of Latter-day Saints. Over the years I have felt sadness as I saw the Restored Church becoming like the Nephites in the Book of Mormon. Prosperous, Wealthy, and Proud. No wonder that Book is for our day. It seems like 8 years later things have become even worse.
I will keep this brief.
Years ago I wrote about the Church paying over a half a billion dollars for more land in Florida. They already owned hundred of thousands of acres of land, but now they own over 2% of the state of Florida.
http://barerecord.blogspot.com/2013/11/215-lds-church-spends-over-half-billion.html
THE LDS CHURCH NOW OWNS 2% OF FLORIDA
With the completion Thursday of the $562 million purchase of more than 382,000 acres of land in North Florida's panhandle region — along with Deseret Ranches' property in Central Florida that covers parts of Osceola, Orange and Brevard counties — Mormon church subsidiaries now own nearly 2 percent of Florida.

Link to the Orlando Business Journal Article
That is like building a city the size of Denver Colorado with their population of 557,917.
Link to the Salt Lake Tribune article:
It is hard to imagine the money that will needed to be spent in development for the roads, streets, highways, utilities, fire stations, police, schools, retail shopping, office buildings, etc. Most likely, trillions of dollars. A trillion dollars is hard to fathom.
To give you an idea, if you had a stack of $100 dollar bills you would need to stack them over 60 miles high. Most commercial airplanes fly at 30,000 feet, which is 5.7 miles high, so imagine $100 bills reaching ten times higher than the clouds.
You compare that to Elder Oaks
statement
that the Church spends only 40 million per year that we give to charity.
That is only .004 of what it might cost to develop this land in Florida.
I believe that maybe the expense would be worth it if we were building Zion. So is this new city in Florida going to be Zion?
Well you decide for yourself. Early development has already begun on the Church land between Disneyworld and Cape Caneveral, just south of Orlando. The homes that are currently being built and sold look like luxury resort homes. Here are some of the conceptual renderings. The first phase of development is called Sunbridge.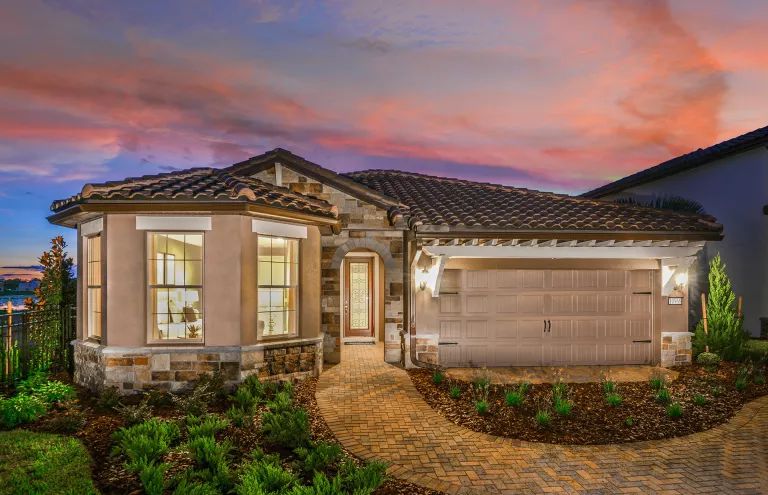 Here is an article to read for more information.
https://www.theguardian.com/cities/2017/jan/30/from-book-to-boom-how-the-mormons-plan-a-city-for-500000-in-florida
Here is the Church's Development Timeline of this first phase:
On March 21, 2016, the Church filed a comprehensive plan amendment with Orange County to begin the first phase of development.
Construction is anticipated to begin in 2018.
The development is a long-term project. Proposed Development Program The overall development in Orange County would include:
5,720 homes
1,650 multi-family units
9 million square feet of commercial space
5,470,000 square feet office space
2,900,000 square feet of Industrial space
880,000 square feet of Retail space
490 hotel rooms Conservation Nearly 13,000 acres will comprise preserved conservation space that includes preserved wetlands and upland buffers.
--------------------------------------------
We would do well to reread the parable of the Sheep and the Goats found in Matthew 25. It is a parable for the last days just before the Lord's Second Coming.
'When the Son of man shall come in his glory, and all the holy angels with him,.. He shall separate them one from another, as a shepherd divideth his sheep from the goats: And he shall set the sheep on his right hand, but the goats on the left."
The sheep are those who feed the hungry, clothed the naked, and gave shelter to the homeless.
The goats did not feed the hungry, did not clothe the naked, and did not give shelter to the homeless.



"Then shall he answer them, saying, Verily I say unto you, Inasmuch as ye did it not to one of the least of these, ye did it not to me. And these shall go away into everlasting punishment"
It is my hope that the Lord will call us His sheep instead of goats.
Sidenote:
I wanted to share two more photos:
One of the photos was taken of President Nelson on his recent tour of the Pacific Islands. He was accompanied once again with his wife and her best friend Sheri Dew. The honor and glory the members give to this man is increasing. I am not sure how healthy it is for us or for him. We no longer call ourselves Mormon since it was taking away from the name Jesus Christ. I wonder if maybe we should also change the slogan and Primary song of 'Follow the Prophet' with 'Follow the Savior'.
This is a photo/video still of the General Relief Society Presidency. I thought is was interesting that they are all wearing pants including jeans. Not sure how my mom would feel about this because when we take our annual family photos, even the guys aren't allowed to wear jeans.
That being said, the video is actually really beautiful and I want to end on this.
Out of those who are in the General Relief Society Presidency and Board.
6 have experienced financial problems.
4 have experience infertility.
6 have family who identify as LGBT+
9 have family with addictions.
2 are battling chronic illness
2 have been divorced.
1 is a stepmom
7 have had loved one in prison
1 has experienced death of a spouse.
All have been affected by depression or anxiety
9 work outside the home
And the last quote of the video:
"No matter what we have suffered,
He is the source of healing.
and allow Him to work His miracles.